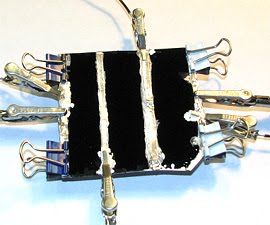 A UT Dallas team's study published in the Journal of Applied Physics expands the extraordinary capabilities of nanotechnology to include laser-powered acoustic speakers made from assemblies of carbon nanotubes.
The study confirms earlier research that carbon nanotubes that are stretched into sheets and electrically powered can produce intense sound, but researchers at UT Dallas' Alan G. MacDiarmid NanoTech Institute have made some important advancements.
Although prior studies demonstrated that sheets of carbon nanotubes can produce sound when heated with alternating electrical current, the UT Dallas researchers have found that striking tones can be generated by vertical arrays of nanotubes, called forests, which resemble black velvet.
The team also discovered that high-quality sound can be generated when nanotube sheets or forests are struck with laser light that is modulated, or "altered," in the acoustic frequency range.
"Nanotubes assemblies of various types are black and highly conductive," said Dr. Mikhail Kozlov, a research scientist and the study's lead author. "Their dark, conductive surface can be effectively heated with laser light or electricity to induce variations in the pressure of the air around the nanotubes — which we perceive as sound. It's called the photo- or thermo-acoustic effect, and it's the same principle Alexander Graham Bell used to produce sound on the first telephone."
…
In addition to filling a room with sound from invisible speakers, nanotube speakers could easily cancel sound from the noisiest neighbor or dim the roar of traffic rushing past a neighborhood, using the same principles as current sound-canceling technologies.
"The sound generation by nanotube sheets can help to achieve this effect on very large scales," Kozlov said.